The fastest of fast-track schedules are often on casino and stadium developments. Working under the constraints of enclosing a casino tower so the rooms may open for booking or finishing a stadium in time for a season-opener is precisely the type of pressure when Enclos operations teams thrive. Utilizing unitized curtainwall is an excellent way for these large projects to balance the speed of installation along with quality and economy. Though the schedules progress quickly on casinos, stadiums, and arenas, it is essential to have early communication regarding the primary structure and continually reiterate the importance of safety in each step of the facade delivery.
million+ square feet
of facade area
Enclos had a remarkable ability to analyze and turn around design concepts with incredible speed. As an architect, we could be studying multiple small variations of a single form, and understanding the cost and constructability issues and efficiencies of each very quickly. This allowed us to make concrete decisions and progress the design with owner and architect buy-in.

Will Hon, Associate, MANICA Architecture
Vice President – Southwest Operations | Mike Coulter
Mike holds over three decades of experience in the glass and glazing industry. Since joining Enclos in 1998, Coulter has been integral to operations in the southwest, quickly ascending into a leadership role that includes oversight of Allegiant Stadium and Resorts World Las Vegas.
mcoulter@enclos.com | 702-963-0721 
Featured Entertainment Projects
Circa (18 Fremont)
Circa opened in 2020 as the first new hotel-casino in the Fremont Street area in 40 years. The 480´ tower comprises 777 rooms and is home to the largest stadium-style sportsbook in Las Vegas. Enclos provided the design, engineering, procurement, assembly, and installation of the tower's curtainwall facade with integral lighting. Materials were sourced from four countries before arriving to site as complete prefabricated units.
MGM CityCenter: Aria Resort & Casino
The Aria Resort & Casino includes interiors with floor-to-ceiling glass, providing spectacular views of the Las Vegas Strip and surrounding desert terrain. Designed by Pelli Clarke Pelli Architects, the building envelope includes over 1.2 million square feet of custom unitized curtainwall to facilitate a demanding installation schedule. Large vertical units spanning two floors and an innovative anchor accelerated the facade's installation. The two arcing towers curve in opposite directions and house over 4,000 hotel rooms and luxury condominiums.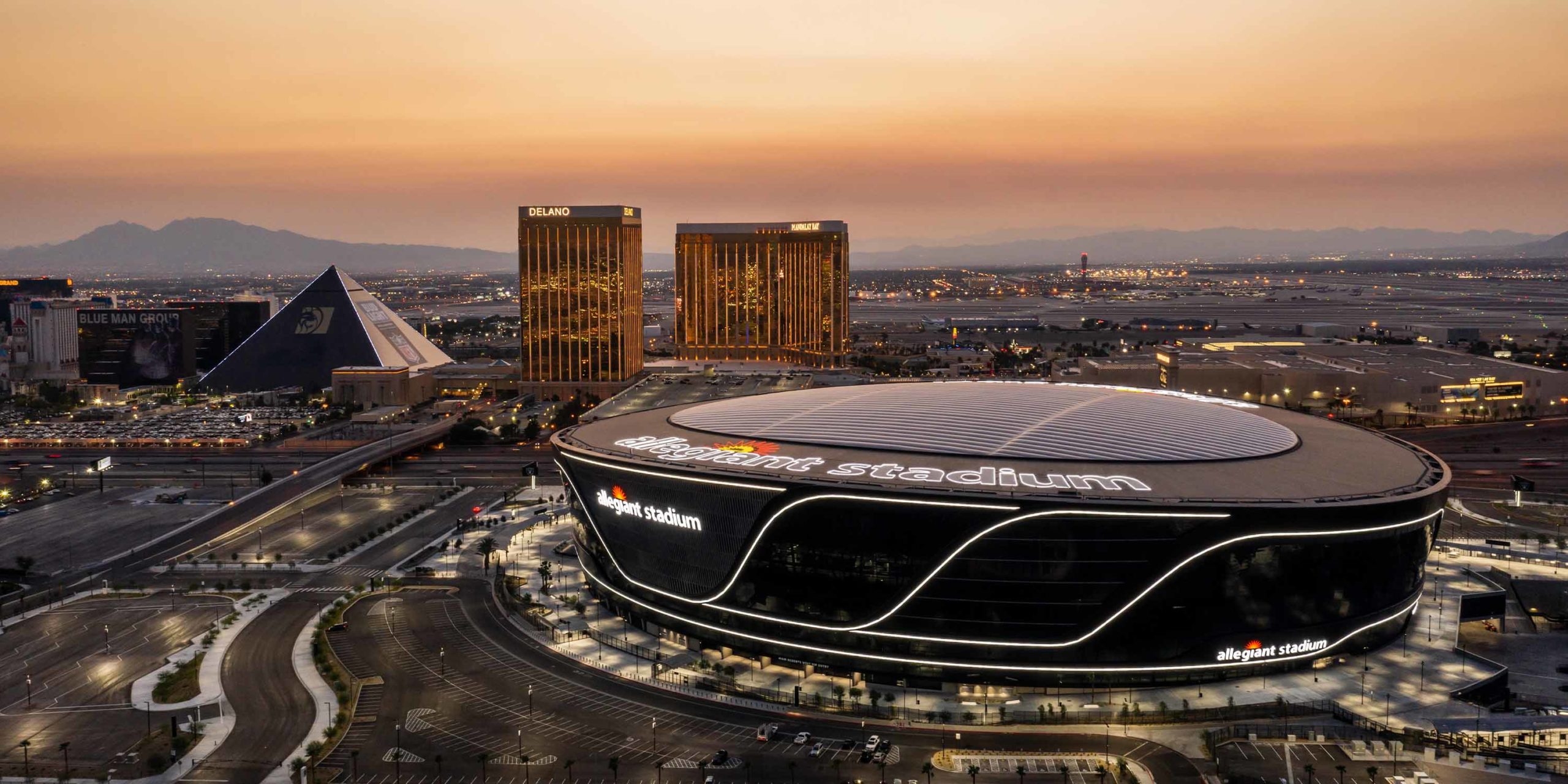 Las Vegas NFL Stadium
Allegiant Stadium opened in 2020 after a fast-track construction to become the new home for the NFL's Raiders new home. The state-of-the-art stadium includes 65,000 seats with room to accommodate 72,000 seats for larger events. It also features massive lanai operable doors at its North elevation, giving spectators a breathtaking view of the Las Vegas Strip. Enclos' scope included 410,614 square feet of unitized curtainwall, complex metal panel ribbon wall, and kinetic mega-doors.
Chase Center Arena
Chase Center Arena is a state-of-the-art sports and entertainment center with 18,000 seats and hosts approximately 200 events annually. The design by MANICA Architecture and Kendall Heaton Architects has a building massing of 14 unique drums stacked upon each other. The facade features 1165 mega-panels with 7500 unique rainscreen metal panels to wrap the complex geometry. Enclos used extensive 3D model coordination throughout design-assist and construction to achieve the dynamic building envelope.