The most valued asset at Enclos is our people, and nothing is more important than providing them a safe environment in which to work. The health and safety of our people are beyond a priority for us; it is a core value deeply rooted in our culture and reflected in every aspect of operations. It is an all- encompassing mindset that includes workplace safety, employee well-being, and environmental protection in every employee action. Our goal is nothing short of zero incidents on all of our worksites every day. We believe that such performance is achievable with the uncompromising commitment and diligence of every Enclos employee in everything we do.
WORK SAFE, HOME SAFE
This is our employee-based safety program that supports our safety culture – a culture based on the belief that every incident and injury are preventable.
While Work Safe, Home Safe may mean something different to everyone, we wanted an opportunity to tell you what it means to us:
SAFETY IS TOP PRIORITY IN ALL WE DO
Safety is a core cultural value that encompasses all we do and is at the root of how we think about our work and our employees. Safety is our priority at every level of a project, from preconstruction to closeout on all of our jobsites and at all of our facilities. We think about what we do before we do it, take calculated action, and emphasize continual learning and adaptation, working safely to the best of our knowledge.
PROVIDING A SAFE WORKPLACE FOR EMPLOYEES
Collectively we create a safe work environment through engineered solutions, system designs, means and methods, and administrative controls.
Getting Home Safely to Your Family and Friends
Our employees are our most important advantage, and prioritizing safety at home is simply a logical extension of that. Believing that employees are our greatest asset, we prioritize their well-being above all else.
HIGH SAFETY STANDARDS IN BOTH WORK AND HOME LIFE
Safety is about more than just safe practices. It is a cultural attitude that we strive to engrain in all we do. Seeing the work environment through a safety lens becomes our default way of acting and making decisions. This mentality encompasses not just how we work, but how we live and do all that we do, as employees and people.
SITUATIONAL AWARENESS
We consider and endeavor to influence all aspects of the work environment that may bear on the safety of our people, including work controlled by others and jobsite conditions not under our control.
LOOKING OUT FOR EACH OTHER
We also think about safety more broadly than staying physically safe at work. We work to pursue an environment that is respectful, healthy, and safe in the broadest possible sense, including how we relate to each other, and how we prioritize individual health and well-being. This includes not tolerating behaviors or disrespectful treatment that can distract from and take away from the safe and productive execution of our work. We are an organization that does not tolerate bullying nor other negative behaviors.
INVESTING IN PROPER EDUCATION ON ACCIDENT PREVENTION PROGRAMS AND TECHNIQUES
We put safety ahead of short-term profit, having confidence that persistence on safe behavior will not only lead to better safety results, but better quality, and better financial results. We invest in quality training experiences related to safety and understand that educating our workforce on safety is a continual pursuit.
JOBSITE SAFETY
The biggest challenge for any construction company is the work that takes place on the jobsite, and it is on this demanding playing field that Enclos differentiates itself. Our safety performance is attributable to a commitment to training and a disciplined approach to study the unique requirements of each façade, tailoring our time-tested tactics for each project. We have developed industry-leading expertise over decades of experience in cladding some of the most challenging building projects ever constructed. This experience has been documented in a concise compilation of best practices concerning the operational safety of custom facade system installation, yet we know that each project presents a unique scenario to be analyzed and potential challenges anticipated. Drawing upon this deep accumulation of experience, we craft a custom safety plan in direct response to each specific project context.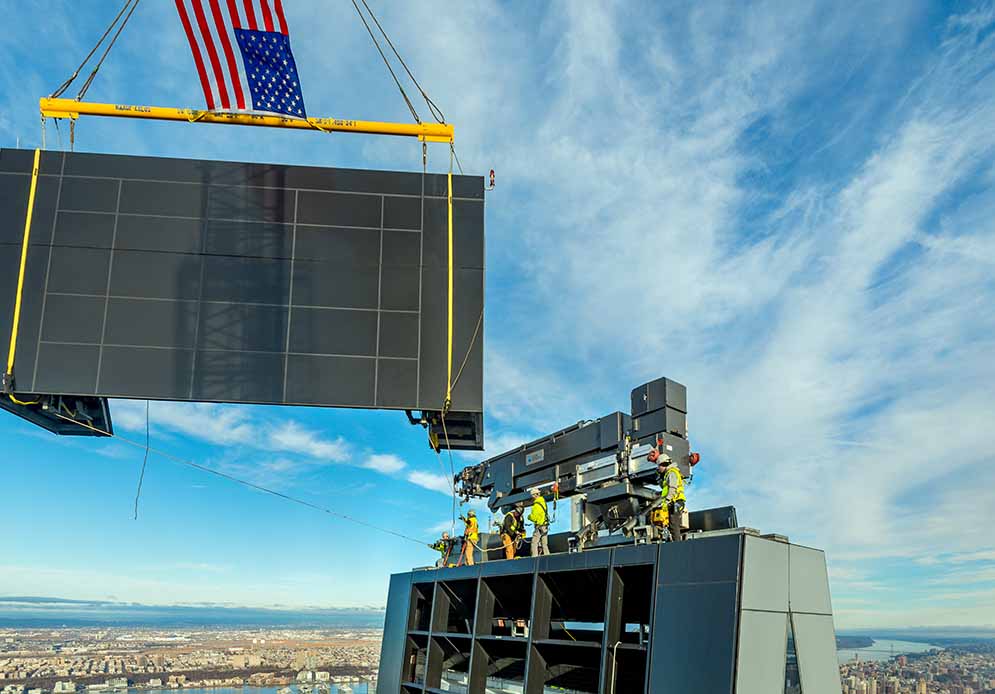 watch video
Safety Above All Else
Enclos crews have completed some of the largest, most challenging construction lifts as it relates to the building envelope. The inginuity of our project teams, educating of the field crew, and proper preparation are what allow these monumental lifts to be successes. The crowning of 53W53 with Apex 1 is no exception, with details of the challenge described in Peak Performance.
The following is an overview of key safety strategies we employ on every project site:
Site-specific Safety Plan
Quality Safety Manager as a part of every team
Project-specific Means and Methods Installation Plan
Daily huddles for each crew
Job hazard analysis
Weekly safety walks
Fall protection
Tool tethering
Controlled access zones at the floor perimeter
MEANS AND METHODS PLAN
A Means and Methods Installation Plan specifically crafted for each project undertaken by Enclos is developed early on with the general contractor to align each others visions. This plan details the measures and practices that will be used to execute the façade installation activities in a safe and coordinated manner.
SITE SAFETY PLAN
The compilation of a project specific Site Safety Plan is a standard operating procedure that is continually improved upon and developed by our site operations managers, a process in which every site activity is identified and assessed for safety risk. A specific strategy is detailed to mitigate risk, and personal protective practices and equipment are specified.
EXECUTIVE SAFETY COMMITTEE
Enclos has an Executive Safety Council, comprised of personnel from all levels of the organization, that meets regularly to develop and promote a safety program that is inclusive of all workers within our organization that helps establish a culture and implement process and procedures that enhance and promote the value of safety in all aspects of our lives. If you would like further information on Enclos' health and safety policy, or to speak with our corporate Safety department, you may do so here.