The much-anticipated Allegiant Stadium is currently underway in Las Vegas and will become the new home of the Raiders. Situated only a couple of miles from McCarran International Airport and adjacent to the Las Vegas strip, the stadium's location is ideal for locals and visiting guests. The state-of-the-art stadium will include 65,000 seats with room to accommodate 72,000 seats for larger events and will feature lanai operable doors at its North elevation giving spectators a breathtaking view of the Las Vegas Strip. In addition, a dome-shaped transparent roof will offer a natural feel alongside the natural grass field and comfortable climate. Tailgating amenities, parking, and mixed-use commercial development will all be available upon completion of the stadium.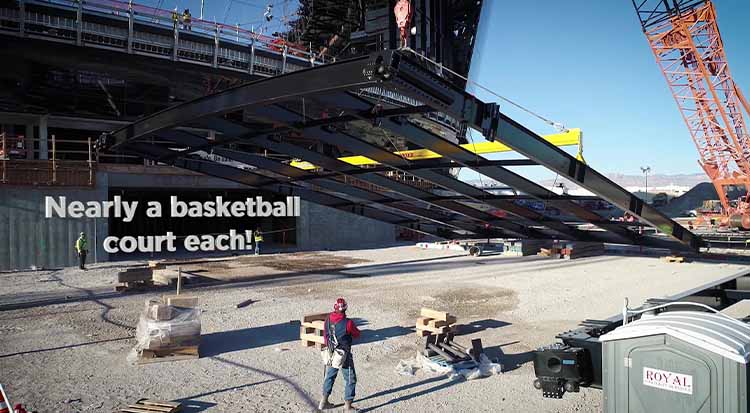 watch video
Mega-Kinetics
Six mega-panels, each nearly the size of a basketball court and weighing nearly 58,000 lbs, make up the North elevation of the new stadium. Four of the mega-panels are operable lanai doors which will open to give spectators a breathtaking view of the Las Vegas Strip.
Enclos provided design-assist services for the facade including unitized curtainwall, louvers, storefront and doors, metal panel ribbons and soffits, and fascia panels for the project. The stadium's exterior consists of 410,614 square feet of curtainwall with ribbon wall and architectural louvers that extend from the curtainwall. The stadium is scheduled to be complete in time for the NFL kick-off in 2020.