Challenges
Prefabricating mega-units for double-curved sloping roof
Integrating maintenance tracks and sizing gutters for variable conditions
Unique interface dealing at all balcony conditions within a sloping roof
Limited space and severe slope at pinnacle during install
Approach
Design-assist phase with extensive 3D model exchange and iterations aided by a series of parametric models
Global material sourcing, assembled in Enclos' facility in Virginia
Pro-active implementation of laser-scanning technology during manufacturing
Custom rigging equipment to adapt to a wide range of mega-panel geometries
---
"Enclos was a good partner that provided comprehensive technical expertise during all phases of the design. Based on our experience with Enclos on the VIA 57 street project BIG would without hesitation recommend Enclos, or work with them in the future."

Beat Schenk, Partner, Bjark Ingles Group (BIG)
Situation
Bjarke Ingels' inaugural New York project at 625 West 57th Street uses a double-curved form to blend itself amongst the low-rise structures to the south and high-rise towers to the north and west. Three of the building's corners remain just above street level, while the fourth rises to a 467´ peak. In doing so, it combines a traditional European perimeter block with Manhattan high-rise. The structure is punctured by a full height courtyard to maintain views of the adjacent Hudson Park and river below, and maximize each unit's access to natural daylight.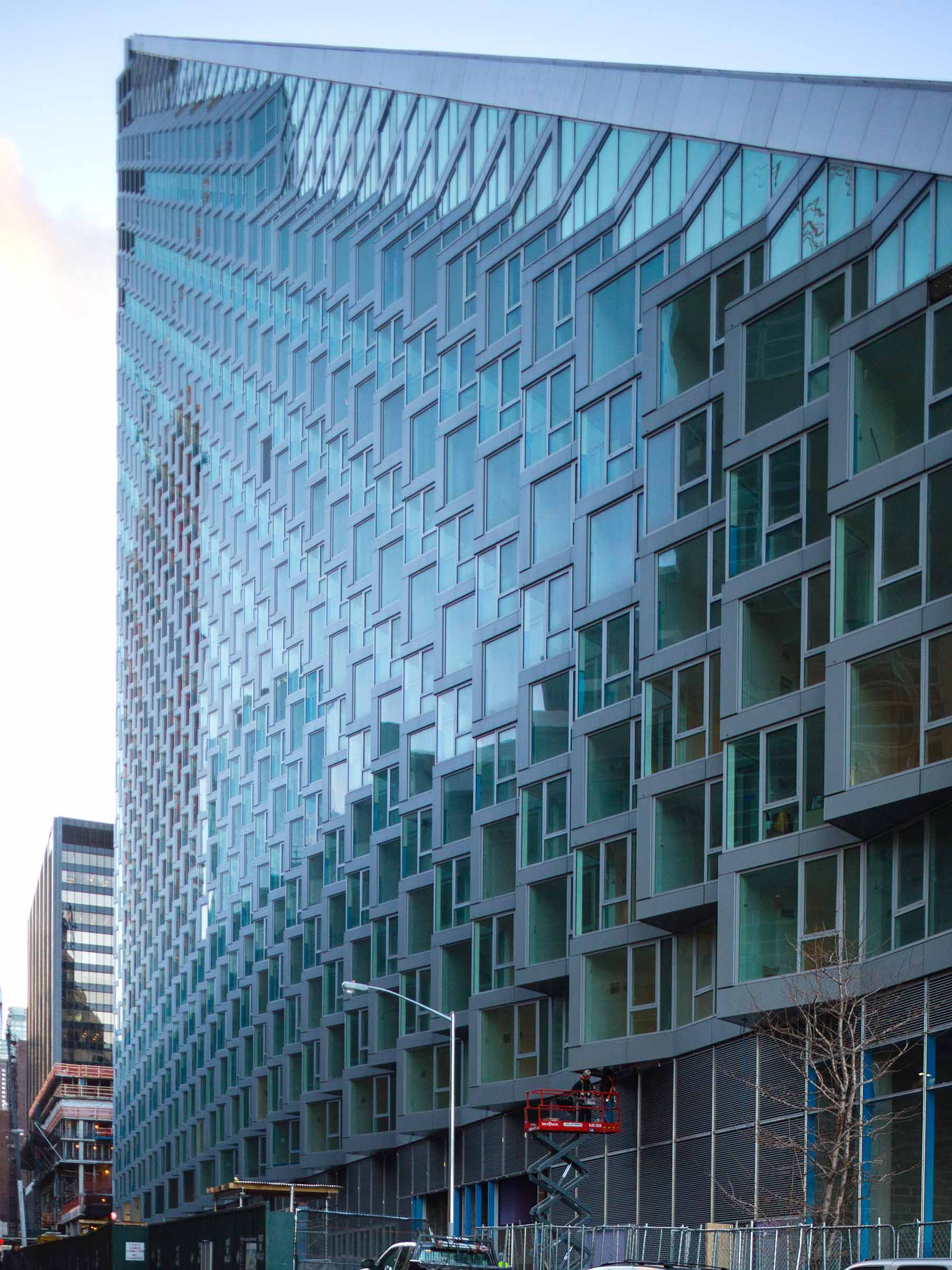 Enclosure Scope of Work
Over 515,200 total square feet of facade, including 353,000 sqft of curtainwall and windowall, a 110,000 sqft double curved stainless steel slope wall, 50,000 sqft of GFRC, and 2,200 sqft of aluminum panel.
Enclos put its global supply chain to work by fabricating extrusions and assembling curtainwall off-shore. The project's unitized sloped wall was fabricated and assembled at an Enclos facility in Richmond, Virginia utilizing advanced metrology laser scanning technologies.
Results
Enclos provided comprehensive design/assist-design/build services for the north elevation's fishbone patterned curtainwall system, south facing unitized stainless steel sloped wall system, and east/west custom curtainwall systems. The building's north and east elevations include 190,000 square feet of curtainwall. The south facing slope wall consists of a 110,000 square foot stainless steel clad unitized system. The Advanced Technology Studio of Enclos conducted simulated tests to optimize a custom gutter system capable of controlling water drainage and snow runoff for the sloped structure. The integrated courtyard consists of 130,000 square feet of curtainwall and window wall systems perforated by terraces.
The project's unitized sloped wall was fabricated and assembled at an Enclos facility in Virginia utilizing advanced metrology laser scanning technologies. The laser scanning ensured the prefabricated mega-panels would fit together once installed on-site. The field crews were supported with custom-designed rigging apparatus that adjusted to the unique shapes of each mega-panel. This engineered solution provides a simpler, safer installation process. The field crew was also aided by geometry specialists who manipulated 3D models and refined details for as-built conditions in real-time on-site.
watch video
On Site for Installation
A behind-the-scenes job walk with Enclos and Local 580 crews during the early stages of facade installation showcases the unique anchorage strategy along the dramatic double-curved roof that caps the iconic courtscraper.
Enclos "did whatever it took…They erected panels 24 hours a day, with excellent and performance-tested quality results."

James McKenna, President at Hunter Roberts, Quoted in ENR NY, November 2017
The result is an iconic addition to the westside skyline of New York City.