Located at 731 Lexington Avenue in Manhattan, the Bloomberg Tower was at the time of its completion the 14th tallest building in New York and the 42nd tallest in the United States. The project sits upon an 84,000 square foot site that inhabits an entire city block.
The building consists of a 54-story tower atop a 10-story base of offices, with an 8-story office/retail wing to the west. 105 luxury condominiums make up the 32nd to 55th floors with sensational views of Central Park. Both the low-rise and high-rise sections have backlit mechanical screen-walls. The centerpiece of the project is a courtyard between the two podiums defined by a 9-story inverted conoid wall. The enclosures radial, lampshade form slopes 7° outward from the 7th floor roof to the street level below and is attached at the east to another 8-story office building. The mixed-use facilities are connected by an atrium at the 4th, 5th, and 6th floors. The atrium includes a private drive between 58th and 59th Street called 1 Beacon Court and employs the same glass and stainless steel skin as the structures that it joins.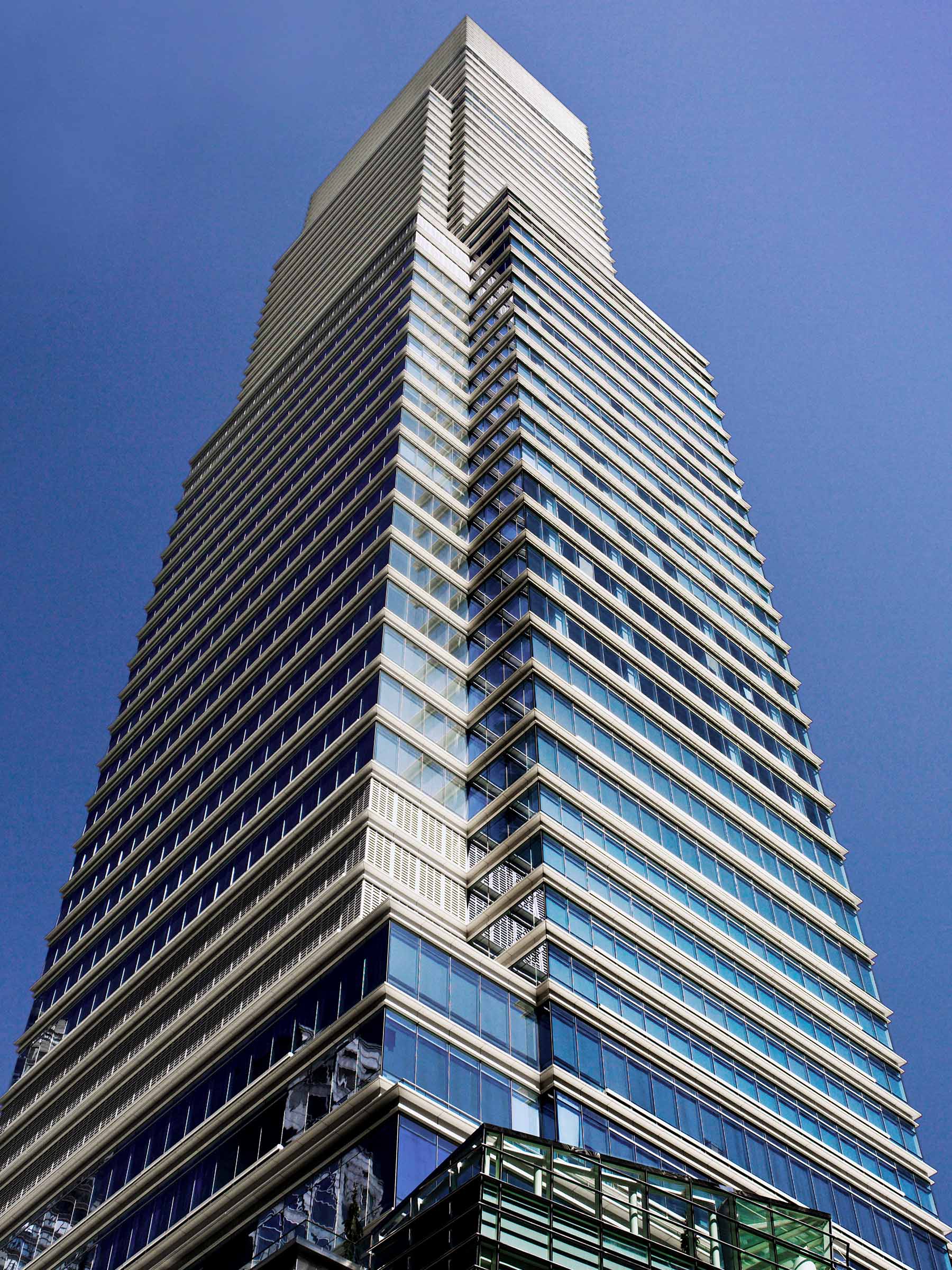 Enclos provided comprehensive design/build services for the building skin, including a custom glass and stainless steel curtainwall system. Areas of the curtainwall feature integral shade fins projecting 13″ from the skin surface. The curtainwall begins just above the lower retail floors that occupy the building's perimeter, climbing to a height of 806´. The tower includes 17 varieties of glass. A series of setbacks follow the tower's skyward climb, articulating the tower form but complicating the facade geometry. A distinctive white glass is used to clad the tower's crown, providing an evening lantern glow and an elegant addition to the city skyline, a landmark that compliments both its immediate surrounding and neighboring towers.
Curtainwall units were fabricated by Enclos vendor/partner Baker Metals. Unit sizes were predominantly 5´ x 15´ or 5´ x 17´ on the tower. The custom stainless storefront units are 10´ x 29´ with 3/4˝ glass, each weighing 4,500 pounds. In addition, the design/build package included stainless column covers, 85 stainless doors, interior glass, stainless handrails, and an expansive standing seam roof.
The congested Manhattan location was likely one of the most challenging construction sites of all time. The jobsite included no room for materials storage, and little for staging. The Enclos site operations team developed a winning installation strategy that delivered the enclosure package on schedule. This strategy included the provision and installation of a tower crane for the sole purpose of facilitating the curtainwall installation. Unit deliveries were scheduled on a just-in-time basis to eliminate the need for any on-site material storage.