Stanford Hospital & Clinics is building a new main hospital facility in order to accommodate new medical technology, increase capacity needs and transform the way patient care is delivered. Designed by Rafael Viñoly Architects, this state-of-the-art facility employs a modular strategy that will allow for future expansions and adaptive reuse. The design borrows from the university's campus theme of low-rise, horizontal building plans. The structure is designed around a series of large glass cubes that will provide abundant natural light throughout the hospital's atrium and inpatient rooms.
Performance demands upon the building skin continue to accelerate, and Enclos has met these challenges with a series of customized wall system solutions. For the New Stanford Hospital project, the thermal and acoustical characteristics of highly glazed buildings were prime concerns. The architect utilized a double-skin strategy to address these concerns. The double-skin configuration — an external glass panel, an air filled cavity, and an internal glass panel — will significantly enhance performance while also optimizing return investments when compared to conventional ventilated triple-glazed facades. The system also integrates automated and operable blinds sheltered within the cavity as a means to enhance thermal performance and control glare.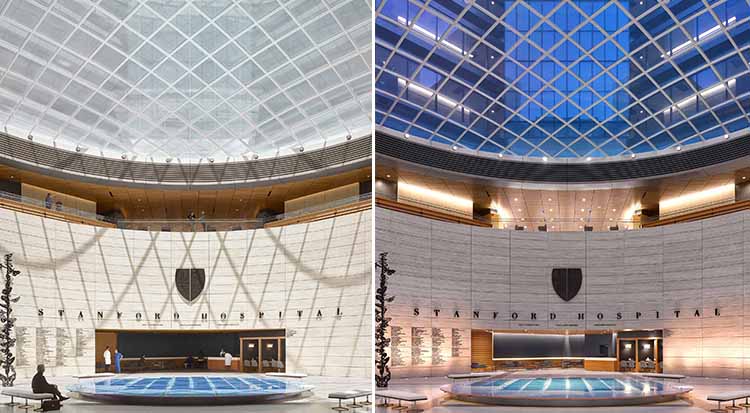 watch video
Atrium Skylight Provides Central Focus
The nearly 12,000 sf glazed dome caps off the central, multi-story atrium. 450 insulated glass units rest upon an architecturally exposed structural steel (AESS) gridshell that spans 114´.
Maintenance and serviceability are two predominant concerns when considering double-skin facade technology. Most designs include some level of operability that provides for opening the system to access the cavity for cleaning and maintenance. The architect's strategy was to seal the cavity between the glass panels as a means to eliminate this maintenance requirement, essentially creating an oversized insulated glass unit (IGU). Enclos responded to the request for proposal by undertaking a detailed thermal analysis of the proposed system and identified a condensation problem under certain climatic conditions, which would have compromised the design intent. We began exploring alternatives, and hit upon the concept of providing a continuous low-level positive airflow to the cavity of each unit. In this scenario, a compressor supplies a very small volume of filtered and processed air through individual feeder loops at each floor level. We recognized this as a potentially effective means to prevent condensation and the deposition of particulate matter within the cavity, thereby achieving the benefits of a sealed unit without the drawbacks.
The Enclos design team prepared to develop the concept into a working solution, and during initial research, we came across a French company that had developed and patented related technologies over a decade ago. In fact, the technology had been in use in several large-scale building applications for over 10 years, including the Bibliothèque nationale de France (1997). We contacted the French company and ultimately licensed rights to the technology. Our ability to identify a problem with the proposed design, conceptualize a solution and secure proven technology to provide that solution were key factors in our selection by the project team.
Construction commenced in 2011 with the already existing, adjacent Stanford Hospital remaining uninterrupted and fully functional. Enclos completed enclosure work in 2018 while the $2 billion project officially opened in November 2019.
 Photos courtesy of Will Pryce via Rafael Viñoly Architects.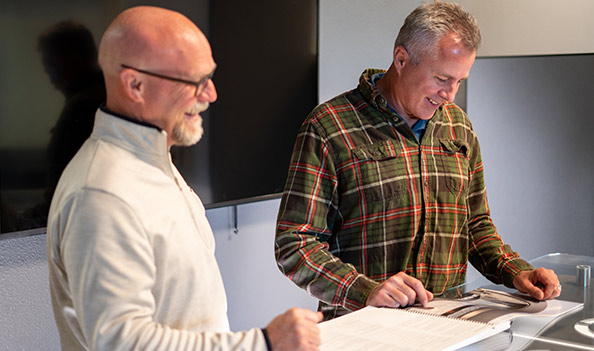 connect
A SELECT PROJECT TEAM
The West Operations team provides leadership and project management expertise to all projects, emphasizing safety in logistics, economy, and schedule. The New Stanford Hospital allowed the team to contribute a high-performance double-skin facade to a world-class medical facility.
Kevin Gross | Project Lead